The New Age Renaissance: Book Launch and Solo Exhibition by Artist Tan Oe Pang and Author Goh Huck Heng
Posted on June 16th, 2019

Exhibition Period:  29 June – 7 July 2019

Public Event:
Author Talk & Book Signing with Goh Huck Heng
6 July 2019, 3 – 4pm

Opening Hours: 10am – 10pm Daily

Venue:
ION Art gallery
Level 4, ION Orchard
2 Orchard Turn
Singapore 238801

Organised by:
Sky One Art Gallery
30 Tai Seng Street #09-02
BreadTalk IHQ
Singapore 534013

From 26 June to 7 July 2019, Sky One Art Gallery is proud to present "The New Age Renaissance", a solo exhibition by Singaporean multidisciplinary artist Tan Oe Pang. The art exhibition is held in conjunction with the launch of a new limited edition art book titled "In Conversation with Tan Oe Pang and Goh Huck Heng in Singapore", inviting readers to explore Tan's artistic practice through a series of dialogues with author Goh Huck Heng. For the first time, over 50 pieces of selected artworks were discussed in depth, allowing art lovers to gain greater insight into Tan's mastery techniques, creative concepts and inspirations behind his works.

In "The New Age Renaissance" solo exhibition, about 30 original artworks published in the art book will be exhibited, together with a curated collection of 60 pieces of oil paintings rendered in an array of styles. The exhibition showcases significant paintings in Tan's extensive art career, featuring a vast body of diverse work from the early 1980s to the recent years.

"An art practitioner needs to have a keen insight into life to seek representational and inspiring subjects. These life experiences are depicted in paintings and expressed through art," says Tan. Indeed, tapping into his personal memories and close observation, familiar subjects relating to the culture of Singapore, such as orchid, mynah, lion, durian and highway are often portrayed in Tan's art. From the simple Potong Pasir village to complex interconnected highways of the bustling city, his paintings connect our past to present, remembering our roots while reimagining the future. In the Chinese ink painting titled as "Adik Beradik Pulang Potong Pasir" ("Two Sisters Went Back To Potong Pasir"), two Chinese sisters are depicted in Malay costumes, emphasising on our unique multi-cultural heritage and the importance of racial harmony which shapes our success as a global city.

Besides bringing the past and present together, Tan adopts the "East meets West" approach in creating his intriguing "Chinese Oil Painting" series – an innovative integration of western painting tools and materials; together with techniques and concepts of Chinese ink painting. This results in concise strokes that create tension and capture the vitality of his subjects.

About the Artist

Tan Oe Pang (b.1947, Singapore) works with a wide variety of mediums which includes Chinese ink, Chinese calligraphy, oil painting, sculpture, mixed media and poetry. At the age of 13, he was mentored by Fan Chang Tien, the third generation master of Hai Discipline, from whom he acquired the art of traditional Chinese ink painting. Subsequently, Tan's artistry developed into a distinctive fusion of Eastern and Western art techniques as he seeks to push aside the constraints of tradition and cross-cultural boundaries.

Tan Oe Pang has exhibited widely overseas in countries such as Brazil, Chile, Germany, Holland, Scotland, South Korea, Taiwan, China and the United States of America. He participated in the 1985 International Biennial of Arts in Sao Paolo; his work "Insect of Ice" was highly regarded and it is currently exhibiting at National Gallery Singapore. He was invited to join in the 1987 International Biennial of Arts Valparasio in Chile. In 1987, The Academy of Chinese Paintings in Beijing invited Oe Pang to be a guest lecturer and he held solo exhibitions on calligraphy and painting. In the following year, his painting "Han Acrobatics" was awarded Works of Excellence in the Beijing International Ink & Wash Painting Exhibition and the work is now collected by National Gallery Singapore. In 2007, he held solo exhibition and launched two books – "Perfect Dimension" and "Homeland" – at the Singapore Art Museum. Subsequently, he had solo show and forum at Hai Shang Shan Art Center, Shanghai in 2008 and a solo exhibition "Revelation of the The Tang Dynasty" at Chiang Kai-Shek Memorial Hall in Taipei in 2009.

His works are collected by museums and international private collectors. They include the Los Angeles County Museum of Art, National Gallery Singapore, Singapore Art Museum and Singapore Embassy in Thailand, Korea and China.

About the Author

Goh Huck Heng (b.1947, Singapore) graduated from the Nanyang University in 1971, majoring in Geography. He had served as a manager in Singapore Airlines, a special assistant to the president of Sun Island Resorts in Shanghai and a general manager in Huanghe Great Vew Royal Garden. He resided overseas for nearly twenty years, before taking on his current role as a freelance writer. In 2000, Goh co-founded Sky One Art Investment with entrepreneur George Quek to promote local art. He edited and wrote for various art publications, including "Tropical Rainforest" (2001), "Homeland" (2005), "Perfect Dimension" (2007) and "Revelation of the Tang Dynasty" (2013).

About the Gallery

Established in 2014, Sky One Art Gallery is an art space dedicated to showcase the works by acclaimed Singaporean multi-disciplinary artist Tan Oe Pang. It strives to present Tan's fine artworks to the local and international audiences. Through exhibiting Tan's wide array of works on rotation, the gallery seeks to increase the capacity of Contemporary and Chinese art appreciation.

Strategically located on the 9th floor of the iconic Breadtalk IHQ – a stone's throw from Tai Seng Mrt station at the Paya Lebar District, the gallery featuring a selection of contemporary artworks is a perfect addition to the innovative lifestyle building which houses the Group's flagship Food & Beverage brands such as BreadTalk, Toast Box, Din Tai Fung and Food Republic.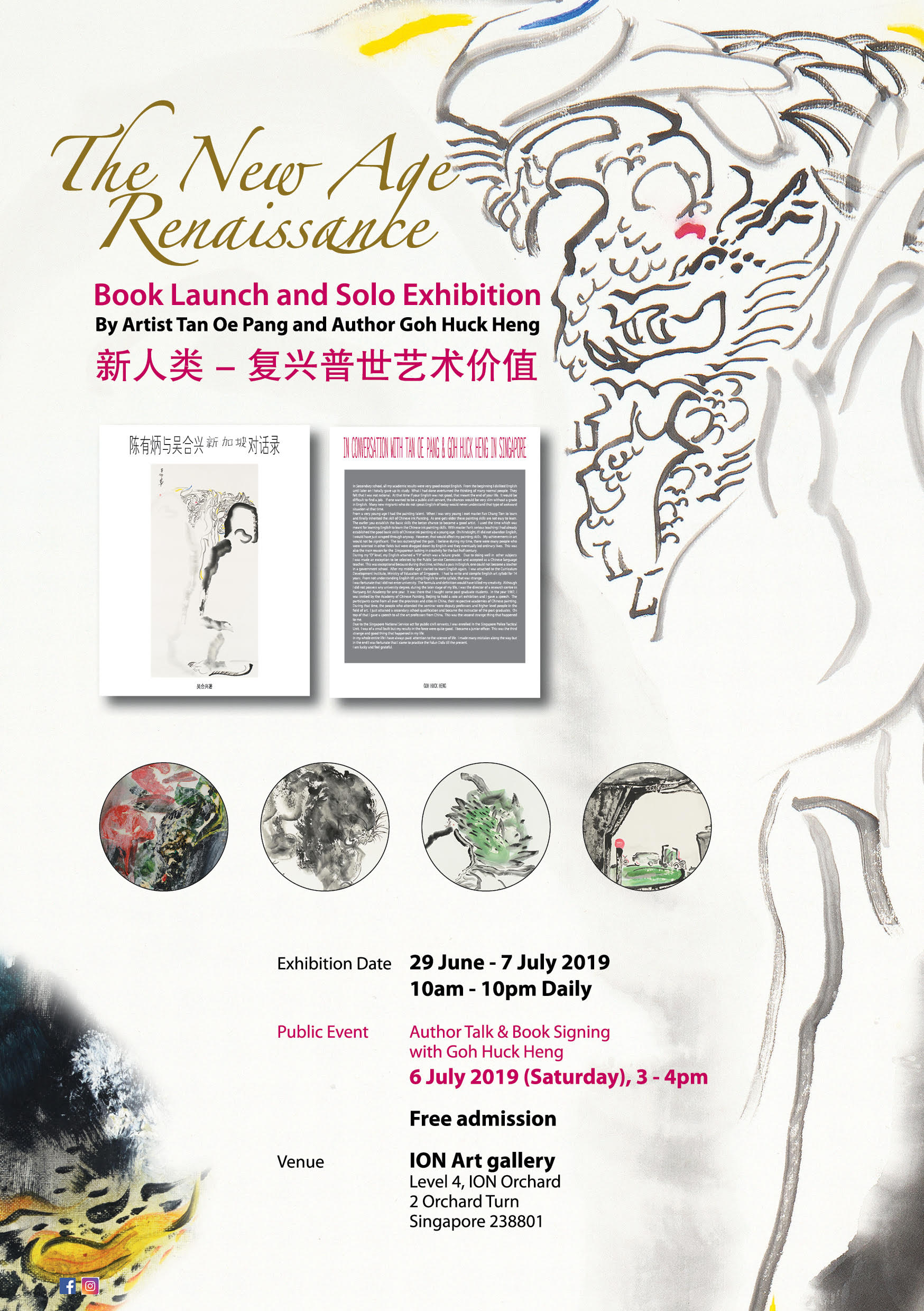 Back to News
---
© Sky One Art Gallery 2009 – 2021 All Rights Reserved
Contact